This is about a yoga position that will make you relax and free you from the pain.
If your job asks to sit in front of the computer all day you might feel a certain discomfort or pain, mostly in your back.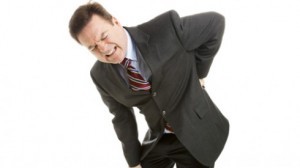 To get rid of this pain, all you need is a belt for this exercise. This is about a yoga position that shall not worry you if you don't succeed the first time.
Lay on your back with your knees bend. Then make your back straight and keep your right leg in a 90 degrees angle, put the belt on your foot and hold it with your hands. If this is too hard, raise your leg from the floor in a bigger angle, as much as you can, but be careful your leg should be straight all the time. Do the same with your left leg.
Repeat the exercise, but this time with your leg straight on the floor. Try to take deep breaths all the time for additional relaxation.
For further guidance watch the video

send us email to [email protected] for the complete instructions how to make and use some home remedy. 
Medical Disclaimer
The Content is not intended to be a substitute for professional medical advice, diagnosis, or treatment. Always seek the advice of your physician or other qualified health provider with any questions you may have regarding a medical condition. Never disregard professional medical advice or delay in seeking it because of something you have read on this Website.
(Visited 90 times, 1 visits today)